There is a power within you.
It is a point of harmony and clarity that shows you the way. But you have been too distracted by the world to notice it...to feel it.
Life is beautiful. We have heard that before. But how come often times it doesn't feel this way? It is as if we intrinsically know this but somehow we got lost in the way, it's hard to make sense and find the clarity to continue forward. Our destiny is like a path that can get full of weeds which makes it hard to transit.
We have experienced the void the comes from a life that is out of alignment, the pressure that the world places on us to "be somebody" and to fit standards that are not in alignment with our true nature and authentic self. We have felt the void of not finding a meaning to it all, feeling empty and hopeless, and not having a clear path to take in our life.
And here's something that may surprise you…We are grateful for the void and lack of clarity; because it embarked us on a profound search, deeply in ourselves and ancient knowledge from the wisest civilizations of the Earth. We are grateful for the pain, the suffering, sadness, all aspects of our ego, which eventually led us to our heart.
After we experienced the power of our heart and how to listen to its soft but certain voice, everything blossomed. We became a witness to a language from the universe, apparent "coincidences" and doors began to open in our life in a harmonious manner.
Your heart will never lead you astray and it is time for the world to know this. You have an internal compass that will always, all ways, lead you in the right direction. This is not an exaggeration, a poetic phrase or a theory.
The Heart Frequency has been created to remind you that there is a power within you that guides you, that you can trust in the universe and in the course of your life. We want to help you experience the delight of being alive. This doesn't mean that hardships won't come, but when they do come, you will be empowered to maintain balance and face all situations well grounded and with a loving heart.
Our Mission
to help you empower yourself to take your life in your own hands, to dream again and to open yourself to receive the wisdom that lies deep within you, one that is in absolute peace and wellbeing because it understands the most elevated purpose behind all of your life experiences. Our mission is to connect you with the essence of who you really are.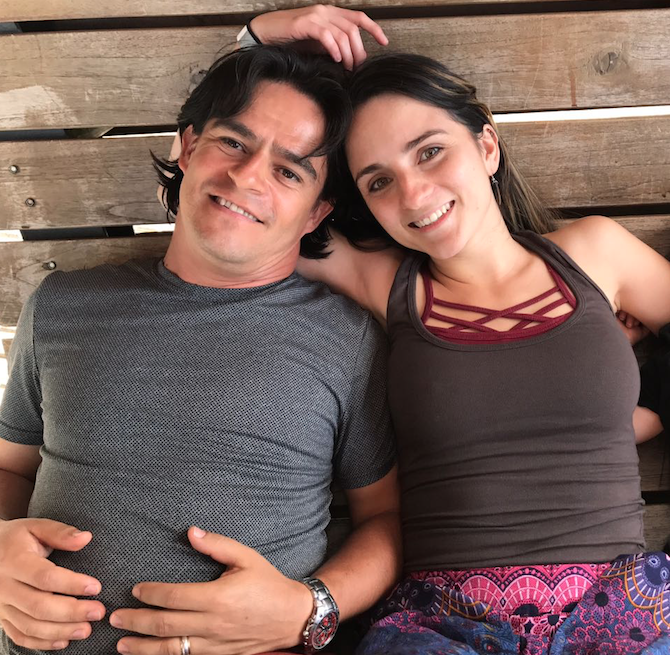 Alex is a member of the council of the Sacred Fire of Itzachilatlan in Colombia and the world. In his life, Alex has inhabited and learned from various indigenous tribes such as the Cofans and Cogis of Colombia and the Aymara of Bolivia. He has also received deep instruction on traditions of the North American Indians. He has blessings to and carries various Ancestral Altars and Ceremonies with Sacred Plants. Alex is also an artist specialized in Ancestral Art and its influence on the psychology and spirit of people.
Laura is an art lover, spiritual practitioner with a love for the Earth, its people, children, traveling and ancient wisdom. She studied Psychology and Art at the University of Virginia. She has explored a variety of indigenous cultures and worked with different plant medicines from the Brazilian and Colombian rainforest. Within her path, Laura has practiced various forms of Yoga, Meditation and singing. She is also a certified yoga instructor.
Alex & Laura are co-creators of Ancestral Knowledge Retreat and they have been working privately and with groups, helping people return to the origin of their wellbeing. Some of their specialties include working with couples, overcoming addictions, helping parents in their journey, and bringing clarity to teenagers during their adolescence.